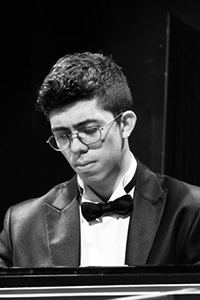 RUBEN MICIELI

"… Ruben Micieli is a born virtuoso… an extraordinary talent", Aquiles Delle Vigne, at Mozarteum University of Salzburg
"… he is an exceptionally talented young pianist… I have been impressed by his natural musicianship as well as his very sophisticated technical skill and … his refined personality", Michel Beroff, Professor Emeritus at the Paris Conservatory.
"His refined art combined with his undeniably fascinating personality are highly promising elements towards a successful career. Undoubtedly, his musicality and personal warmth contribute to giving life to his vivid musical visions", Fabio Mastrangelo – Artistic Director of the Theater "Music Hall", St. Petersburg;  Conductor of: "The St Petersburg Northern Sinfonia", the Moscow Symphony Orchestra, Sinfonica ARTica.
Pianist and composer, born in Ragusa(Italy) in 1997. Winner of the 2nd prize and the best interpretation of F. Liszt's Sonata in B minor at the 9th International Franz Liszt Competition Weimar – Bayreuth 2018 and of more than 40 national and international competitions.
He began his concert activity at the age of 13.
He has performed in concert halls and theaters around Europe and Asia including the Teatro La Fenice in Venice, Salle Cortôt in Paris, Weimarhalle, Recital Hall in HKAPA, Teatro Municipale of Piacenza (Italy) Auditorium Paganini of Parma, Liszt-Salon der Altenburg of Weimar, Auditorium Victor Villegas de Murcia, Palazzo Gran Guardia in Verona, Solitär Hall of Salzburg at the Mozarteum Conservatory etc.
He has played with various orchestras such as the Staatskapelle Weimar Orchestra, the Arturo Toscanini Orchestra of Parma, the Orquestra Filarmonia das Beiras, Orquesta Sinfonica de la Region de Murcia, the Philarmonic Orchestra of Chernovtsy, the Filarmonica of Bacau.
He recorded a CD with KNS Classical (music by Chopin, Liszt and E. Sollima) and a second CD for A2DV Generation with the integral of Chopin Etudes.
He has played in important festivals such as the Hong Kong Summer Festival, Milano Piano Festival, Concierto de Aguilas.
He has won the 2nd Prize and the TRUE ART TV Prize at the Stay Home International Piano Competition 2020.
He's been selected to participate to the Maria Canals International Piano Competition 2021 and to the preselection of the 63rd Busoni International Piano Competition.